Instant Pot Spaghetti – The easiest spaghetti recipe ever!  A quick recipe for spaghetti made right in the instant pot.  Get a family favorite meal on the table even faster on busy nights!
So it was finally time to purchase an Instant Pot and purchase one I did.
I'm crazy about it. It makes dinner especially on busy weeknights so much easier and way fast I might add.
Everyone was wondering what on Earth I would come up with for a first meal and I figured why not Spaghetti as it is the ultimate crowd-pleaser.
I know it seems so boring and indeed unoriginal but the kids are the ones that suggested it (I know what kind of a mom blames it on the kids just to get out of hot water, huh but I swear it was them!)
They could eat spaghetti for breakfast, lunch, dinner, and dessert. :)
Well, I bet you're wondering how it turned out.
Do any of you have an Instant Pot already?  Thinking about getting one?  I'd love to hear what you think!
For now, here are my first impressions.
Before I even used the thing my initial reaction was that this thing is BIG.  Way bigger than my crockpot, and much heavier.
I got the 8 quart, which I'm happy about.  Just saying, if you're going to get one, make sure you have the room for it!
Definitely read the manual.  If you don't, you'll probably feel stressed out and confused at all of the different buttons and parts.
My impression during and after making the spaghetti (which I did a few times to make sure cooking time would be accurate for you).
It was strange at first not being able to peek in the top like you can with a slow cooker.  Ummmm, is this thing on?
But, you can definitely hear that there is some boiling going on inside.
It really did cook the spaghetti just perfectly!
The noodles weren't "gummy" being cooked all together with the meat/sauce/water, which was something I was worried about.
I may actually like spaghetti cooked in the Instant Pot now, more than the typical boiling the noodles and putting it all together after!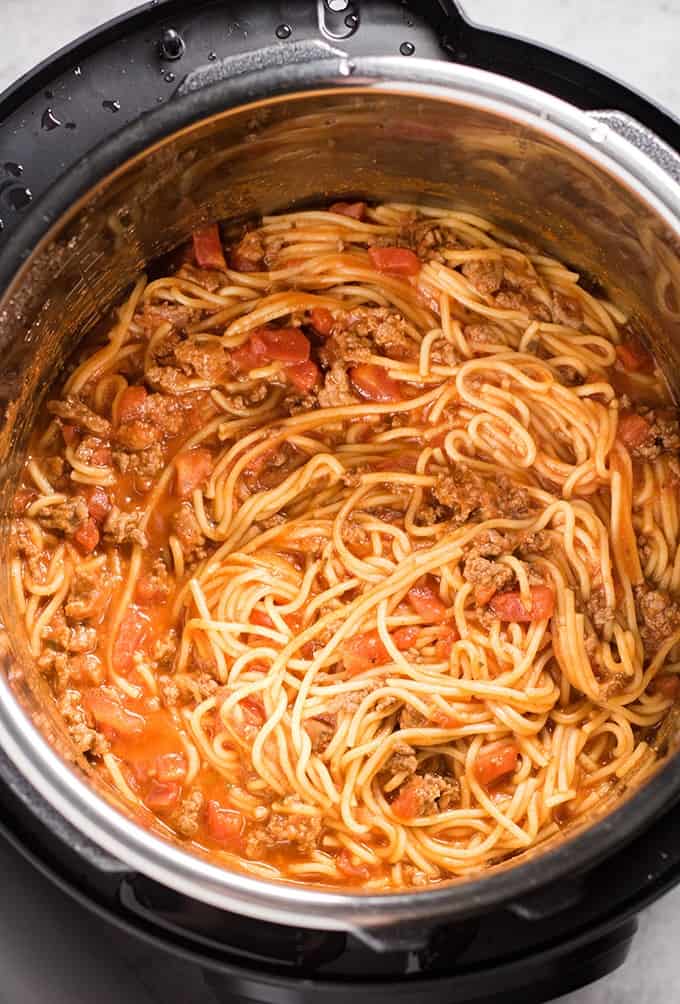 My last but not least favorite thing is that this is a true one-pot recipe.  Spaghetti is always easy to make, but it also usually requires a pan for the meat, a pot for noodles, a pot for sauce, and a colander for draining.
One pot, and no colander needed here.
The meat cooks (I get super lean meat so I don't even need to drain grease) then you toss in your pasta, sauce, water, and seasonings. I even doubled the meat on a couple of the go-rounds and it worked out just perfect with everyone getting that much more protein.
Dinner served in about 8 minutes!
Truly delicious!
Take care,
Kelli
Instant Pot Spaghetti
In about 8 minutes you have all the spaghetti fixings from just one pot to put this crowd-pleaser on the table.
Ingredients
1

lb.

Lean ground beef

1/2

tsp.

EACH Salt, Garlic Powder, Onion Powder, Italian Seasoning



1

lb.

Spaghetti noodles

1

24 oz. jar

Spaghetti Sauce



36

oz. water (1 1/2 jars)

Water

1

14.5 oz.

Can diced tomatoes


Instructions
Set the Instant Pot to saute' and add the ground beef.  Add the salt, garlic powder, onion powder, and Italian seasonings.  Cook the meat and seasonings, breaking the meat up until it's completely browned.  Turn the Instant Pot off. Drain any excess grease from meat if necessary.





Break the spaghetti in half and place on top of meat in the Instant Pot.  Pour over the spaghetti sauce, diced tomato, and water.  Push the spaghetti down with a spoon if necessary to make sure it is completely covered in liquid. 



Seal the instant pot and set it to manual mode, high pressure, 8 minutes cooking time.  When the time is up, use the manual quick release to open the Instant Pot.  Stir the spaghetti well.  Serve immediately.



NutritionCalories: 385kcal | Carbohydrates: 56g | Protein: 26g | Fat: 4g | Saturated Fat: 1g | Cholesterol: 46mg | Sodium: 63mg | Potassium: 430mg | Fiber: 2g | Sugar: 2g | Calcium: 34mg | Iron: 2.9mg


Notes
Notes
NOTE:  This spaghetti may appear to be a little liquidy right after cooking.  Be sure to stir well to incorporate all of the liquid into the noodles before serving.
NOTE:  Some people have had an issue with their noodles "clumping" together.  Try crisscrossing the noodles when you add them to the instant pot, instead of adding them in one big chunk. Some clumping is normal, simply use a fork to pull any noodles apart that have stuck together. 
Equipment Used:
Welcome. I'm Kelli and I'm really glad to meet you. I'm an adoring wife to my soulmate and mother to four precious kiddos. I'm on a mission teaching others what I've learned so far in this crazy thing called life. I just love love love being a mommy and next, I'm crazy about blogging and it is my fondest wish to create that same sense of joy in all those who visit my site. I am here to teach others how to do a bunch of things related to family, faith, family fun, fabulous finds for home and family, and financial freedom through the art of blogging and creating digital products. Stick with me and I'll have you sitting pretty on top of your own domestic and blogging empire! Enjoy!:)